Multiple RSA Award Winning Driving School in the North East
Update Your CPC Today!
BOOK NOW
Motor-Ed
Motor-Ed the Multiple RSA Award Winning Driving School is the only Driving School in the North East who can take you through all your licences Motorbikes (IBT), Car (EDT), Trucks or Coach including all your continuous Training for Driver CPC.
Your goal is Learning to Drive or Passing your Test, our goal is helping you get there, our courses are designed to offer structured, affordable training, regardless of your age or experience. Whether you are just a beginner doing EDT lessons, nervous or getting ready for your Test, we have a course to suit you. Intensive driving courses available in all Categories.
Primarily a Driving School for Learner Permit holders but much more. We supply qualified instruction Approved by the Road Safety Authority in Categories A(Motorbike), B(Car, Manual or Automatic), BE(Car+Trailer), Truck(C1, C1E, C, EC), Mini Bus(D1, D1E) or D (Bus).
For companies we offer Driver Assessments, this can assist in accident prevention, reduce your running costs and ultimately your insurance bill.
Our Prices:
Automatic Lessons: €45 p/h

C1/D1 Lessons

: €60p/h
Jeep and Trailer Lesson

: €60 p/h
Our Prices:
Rigid Truck

Lesson

: €70 p/h
Artic Truck Lesson: €75 p/h

Bus/Coach Lesson

: €75 p/h
CPC Module Training

: €65 p/h
Discounts available from SHOP for block bookings!
Highly Qualified Instructors
It is important to choose the right driving instructor to help you improve your motor abilities. At Motor-Ed, you can trust our highly skilled and experienced instructors to help you become a great driver. If you want to improve your driving skills, get in touch with us today! Call us Now on 087 7874448.
Our Services Include:
Car Driving Lessons
Driving Theory Test Support
Motorbike Lessons
Lorry/Truck Lessons – Bus/ Coach Lessons
Trailer Towing Lessons
CPC Training Modules
Nervous Driver Lessons
Become a Safe Driver
Your goal is Learning to Drive or Passing your Test, our goal is helping you get there! We at Motor-Ed are Committed to help produce responsible and safe drivers. With our skilled professionals and friendly service we aim to give you the best learning experience out there!
Car Lessons & Tests
Whether you wish to learn in Manual or Automatic Motor Ed Driving School is the one for you. From complete beginner, nervous or test preparation we can develop a lesson plan to suit your needs or learning style.
Essential Driver Training (EDT) is a mandatory training course that teaches fundamental driving skills to learner car drivers. It is part of the RSA's Graduated Driver Licensing (GDL) scheme and is intended to improve road safety.
Driver CPC Training
If you passed Initial CPC when you passed your driving test
then your card expiry is your annual refresher date each year.
Our Offer is still in place for advanced bookers
€55 per Module for Prepaid Bookings 3 days before.
€65 on the day if any spaces remain.
Anyone only available for Midweek or Sundays
Ring 087 787 4448 stating which day suits best and Module needed.
Driver CPC Legislation
The training is referred to as a Driver CPC and is being developed as a requirement of the EU Directive 2003/59, which is designed to improve the knowledge and skills of professional LGV and PCV drivers throughout their working life. This Driver CPC is level 2 operational training on subjects such as fuel consumption, defensive driving, drivers hours and operator licencing rules, transport contracts and documentation, together with customer care.
Successfully Passed Learners
Your goal is Learning to Drive or Passing your Test, our goal is helping you get there!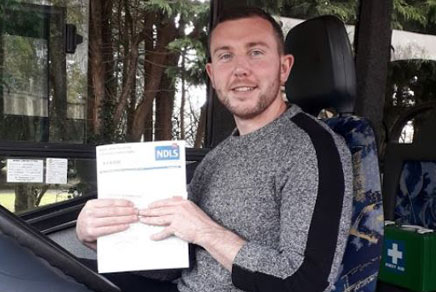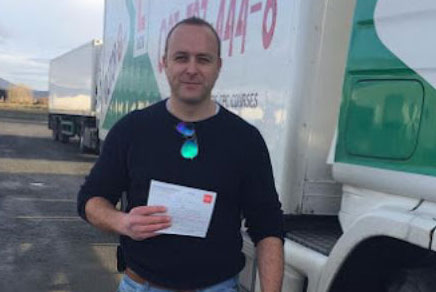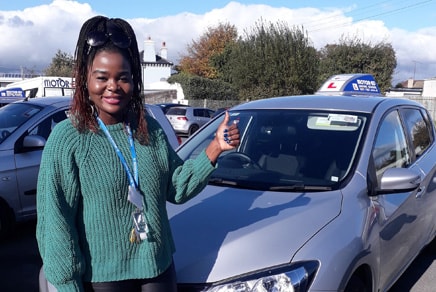 What 0ur Pupils Say About us…
Passed my test first time after 12 lessons with Motor Ed instructor Phelim. 100% recommend, professional and friendly instructors

Gave me lessons on short notice to help me pass my test. Very helpful, professional and good value for money.

Can't recommend the team @ Motor Ed enough they were very friendly and helpful at all time. Thank you guys!

I just passed my test today. I am so delighted! It was my second go at it. Thanks so much to Martin. I highly recommend him. He's a brilliant instructor ..very calm and funny. He'll sort out your bad habits very quickly..you better stop at that stop sign!! Thanks again Martin.

Thank you Martin for all the help.I passed my test only because of you.He is an amazing instructor.If you are anxious and panic driver ,he is the best instructor for you.

Thanks to them I passed my driving test first time. Very nice people and amazing services. Loved it!